Redskaber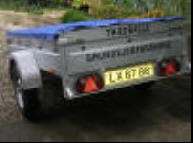 In addition, we also have an apple press machine, chairs, folding tables and benches.
Rules for lending
If you are missing a tool from the Homeowners' Association's pool of common tools, you can contact one of the board members or per. mail (traedballe@gmail.com) and agreement further regarding the loan. For all loans, the agreed lending period must be complied and the tools must be handed over in an as cleaned condition as possible. E.g. tools need repair, then please report it to the board upon handing it in.
Regarding the trailer: the first time you contact a board member and arrange to borrow the trailer. In order for as many people as possible to benefit from the trailer, the following rules apply to the loan:
You can borrow the trailer for periods of max. 3 hours.
You register in a book which can be found in the basement opposite Dalvej 5. For access contact the board or write an email to traedballe@gmail.com.
If you damage the trailer, this is also noted in the book and the member is thus liable for the repair costs for defects caused by the previous borrower, as otherwise you risk being liable for mistakes you have not made yourself!
IMPORTANT: Please clean the trailer. If you miss to do that, you exclude yourself for future loans of the trailer.
Remember to bring a copy of the registration certificate that hangs next to the loan book
The board has decided to try a reservation scheme so that one can book the trailer at a specific time. Put a yellow note in the book (where the loan of the trailer is noted) and state the desired loan date.
The trailer must be picked up by the time it is reserved for. Otherwise the reservation is lost.